A ship, riggings, shrouds and more ropes than I could possibly count or name with my limited experience on a ship, sailing from Reykjavik to Akureyri, such was the image showing on my computer in sun stricken Israel. Driven by a thirst for adventure, a will to see uncanny things and on board of a unique ship no less, I hastily booked a ticket to Iceland.
Admittedly, I was pleasantly surprised to find her docking, in all her shippy glory. Quite frankly, a Russian company, organizing a cruise on a Dutch ship, in Iceland, sounds like a fairy tale! Yet there she was. Though she was not quite ready for us, it was fascinating watching the crew expertly dashing to and fro upon her long deck, busying themselves in the myriad of tasks involved in preparing a ship for a voyage. Up on the mast, a few crewmates were hanging by what seemed to be nothing but sheer force of will and a few ropes.
At long last, we were allowed on board. My eyes shifted to a drawing of a whale with writing underneath proclaiming "Whalecome on board", which was a first sign that I'll be in good company. Introductions were made, each crew member from captain to deckhand talked a little about himself, how long has he been serving on this vessel, where they were from, and so on. Marco, the Captain, gave a short explanation regarding the vessel, and the course we'll be taking, he seems like a hearty fellow. Following that, Isa, who's responsible for the ships interior, showed us around inside. Our bunks seemed spacious and cozy, with plenty of room to store our belongings, clean showers and toilets, what could more a man ask for?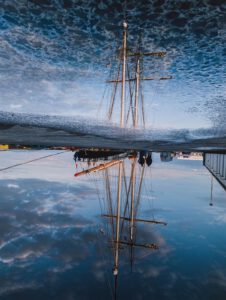 Another point must be made about the food, Tina and her assistant Fleur are blasting wizards! They conjured up a meal both plentiful and utterly delectable. A trend which luckily continued throughout the entire journey.
With such a daunting amount of things to wrap ones head around for the first time, it'd seem reasonable to feel overwhelmed. Though in truth there was no rime nor reason for those concerns, much alike any concern that asking a crew member to explain something once more would be met with frustration, as the crew seemed utterly devoted to their purpose of teaching others the joys of sailing. Tugging ropes, climbing aloft, and a myriad of other tasks were all done with good spirit and sparked true comradery between us! All the while Iceland's unseen side shone through, both while sailing and on our short visits on shore.
From Reykjavik's bustling streets, through icy winds and sunny days, learning about sailing, and watching as Iceland's wildlife swam past us, as if joining in for a brief moment to our journey. I enjoyed my stay so much, that I opted to stay aboard for an additional week, a decision that I couldn't be happier with. Seeing as I gained experience on my week aboard, the crew felt it safe to allow me the pleasure undertaking more complex tasks, such as rigging up a sail to its proper position on its mast way up on the yard.
Once again on the Isle of Grimsey, Iceland's northernmost island that sits on the edge of the arctic circle, Some members of the crew and myself have become members of the lucrative "Arctic swimmers" club, by taking a plunge into the bays icy water.
These days will always be remembered with earnest fondness, a sentiment that wouldn't have arisen had it not been for the wonderful people that I met here, crew, trainees and all. Fair winds and fair seas to all, truly yours, in friendship,
Bar Ayal
Do you also want  have an adventure? Check our expeditions on booking.wyldeswan.com.